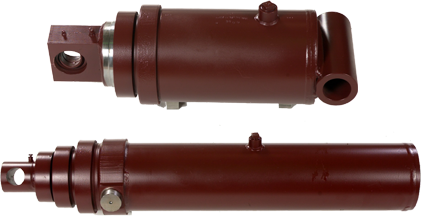 SHC, Inc. specializes in the manufacturing of custom hydraulic cylinders. Our high degree of customization allows us to offer you a great deal of flexibility in design and fabrication to best meet your needs. The custom hydraulic cylinder that we make is available in a wide array of sizes starting at one inch in diameter up to 12 inches in diameter, and as long as 14 feet in length. Hard chromed steel is typically used for the cylinder rods, with other materials available.
As hydraulic cylinder manufacturers, we make cylinders for a wide range of functions:
For road working and railroads, hydraulic cylinders are designed for high-cycle applications. Typical head styles include an internally threaded gland, or an externally threaded nut for retention in environments where a great deal of vibrations is present.
In waste collection/removal or excavation, hydraulic cylinders need to be highly reliable and have a strong longevity. A wealth of engineering needs to go into these cylinders in order to ensure durability and high cycle operation.
Hydraulic cylinder requirements for truck cranes range from simple, single-acting steering applications to double counterbalance valves capable of holding a load in the case of a system failure.
For material handling, safety is of the utmost importance as the issues needing to be dealt with are as much about the people working in the vicinity as they are about the material being moved.
Regardless of the application, our engineers are ready to design a telescopic, dual acting, or single acting hydraulic cylinder that will meet your specifications and requirements. Please fill out our quote form to get an estimate on a custom-built cylinder. One of our experts will contact you promptly.